Definition of a Travelling Bartender: A traveling bartender who takes advantage of his unique profession by working in a foreign land and saving money, so he/she can then enjoy periods of travel and adventure. Followed by settling down in a new place and repeating the process. 
Most people assume that living a life where you get to travel full time is reserved for the rich & famous, definitely not for ordinary people like you and me. There's a good reason for this. Traveling can be expensive, especially if you're the kind of person who actually enjoys doing stuff, like having the occasional drink, taking a tour, or going kayaking.
Flights, accommodation, trains, food, beer & wine, it all adds up. Even if you do manage to save up enough money, eventually it will run out and the time will come when you have to return home.
So Why a Traveling Bartender?
Traveling is without a doubt, one of the most worthwhile activities you can pursue. It's an investment in yourself, your education, it's ridiculously fun, it has the potential to transform your life, and no matter how much you travel, you'll never get sick of it. The idea that you could live the traveler's life indefinitely by being a travelling bartender, without having to save up for years or come home prematurely, sounds like a fantasy to most.
5 years ago, I used to think the same. I thought that you had to be rich to sustain any form of long-term travel. But, I've since realized that it's simply not true and I've lived a life in contradiction to those thoughts. There's another way, and it doesn't involve restricting your travels to the 2-4 weeks in holidays a year. Rather than spending your life at work, you could spend your time living abroad, traveling foreign lands, meeting extraordinary people, and seeing the world as a traveling bartender.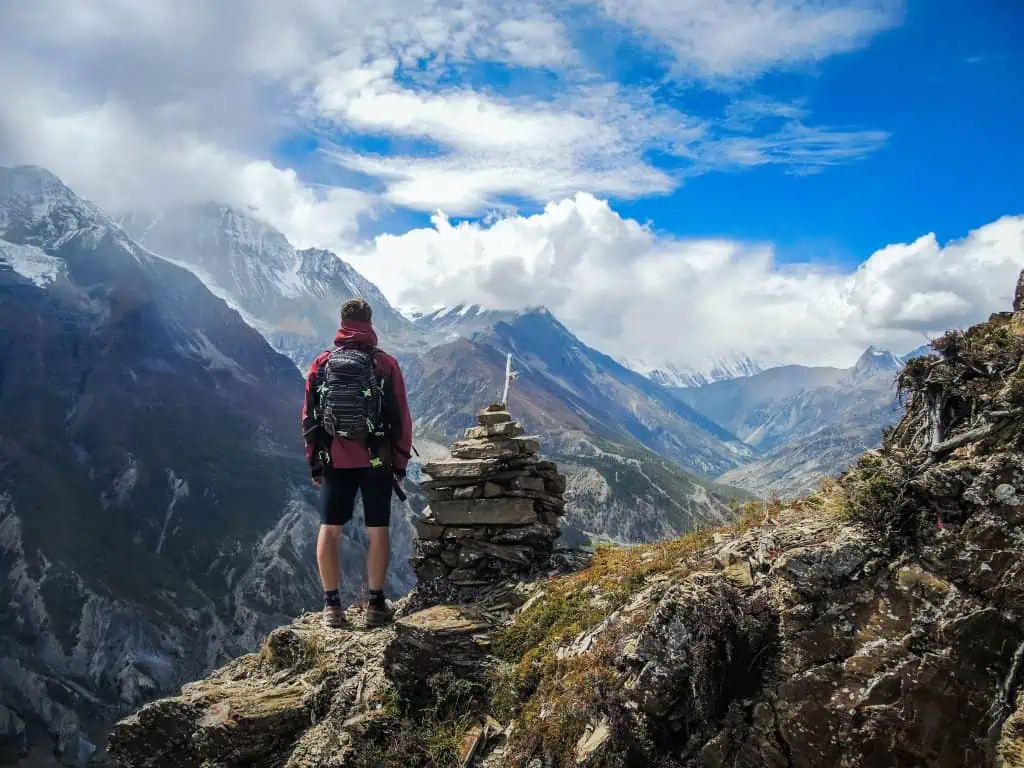 A Traveling Bartender's Life
I'm a traveling bartender and I love it. I love being involved in an industry where I get paid to socialize, make great money, and actually have fun at work. I love having my days free to do whatever I want, and spending my nights at work, sinking the occasional beer when things start to get a little hectic! I love learning about people and the fascinating world of food, wine, whiskey, and cocktails.
But most of all, I love the fact that my profession gives me the freedom to live wherever I want. I don't have to restrict my travels to 2-4 weeks of holiday a year and I don't have to worry about finding a job. I can spend as much time abroad as my visas allow, save up, travel again, then move on to the next place.
If you told me that this is what I'd be doing 5 years ago, I would have said that it wasn't possible. "You need to have money to live that kind of lifestyle." And yet, here I am. I've lived in the French alps, Nice, Melbourne, & London. I've backpacked throughout Europe, I've partied in Ibiza, I've trained in Thailand, And much more, all because I'm a traveling bartender. Looking back on the last 4 years, I'm amazed at how fortunate I've been to stumble my way into this profession.
What I find even crazier is that as much as I've already done, my journey is far from over. Next year, I'll be traveling Australia in a campervan with my girlfriend that I met in the French alps. Then we'll be backpacking throughout South-East Asia for a couple of months. And with plans to move back to the UK followed by a stint in South America, I'm pretty excited for what's to come.
Sounds pretty awesome right?
If I Can Do It, So Can You
If you have a passion for travel & adventure, the benefits of becoming a traveling bartender are huge. Even if you choose to do it temporarily, bartending will open up doors you never knew existed.
Am I special?
Far from it. I'm just a regular guy who loves to travel that took an interest in the craft of tending bar. Anyone can live this kind of life. In fact, several of my friends are living it right now.
But it doesn't happen overnight and certainly doesn't happen by jumping into a career you're not sure about. You have to spend some time getting experience in the hospitality industry and honing your craft. Then the world becomes your oyster.
Some people will think you're crazy when you tell them you want to be a travelling bartender, even if it's only temporarily. Some of my friends certainly did. Now, they look at my life enviously.
It takes courage to go against conventional wisdom and to live differently from those around you. But I guarantee you the risk is worth the reward. Take a leap of faith, buy a plane ticket, get some hospitality experience, and see where life takes you! It will be one of the best decisions you ever make.
Here's how being a traveling bartender changed my life…
My Story as a Traveling Bartender
Back in 2011, I was studying for my bachelor's degree in Commerce (business and economics), and living with my parents in Melbourne, Australia. I turned 21 years old that year. My daily life looked a little bit like this: Wake up around 10/11am (9am classes were way too early!), go to uni (if I felt like it…), come back from uni around 4/5pm, take a detour through McDonalds drive-through, get home, watch a movie, watch another movie, and then eventually go to bed after another productive day at the office.
Yep, I'm not going to lie, but back then my life was pretty boring, I was extremely lazy, and I KNEW it. Life was depressing. I didn't have many friends, I had poor social skills, and as for life skills, they were virtually non-existent.
On my days off from school, I was working in the warehouse of my parent's business unpacking boxes, counting stock, and maintaining proper standards of cleanliness. Whatever that means… And to top off what was already an exciting life, I'd just landed my dream job… A graduate position in Accounting!
Sarcasm aside, I can easily say that this period of my life was very depressing and I definitely wasn't satisfied with that kind of existence. I longed for adventure & excitement. So with what little courage I had, I decided to temporarily move my life overseas and bought a plane ticket to Europe.
Setting the Scene
It was late 2011 and I would be flying into Paris mid-2012. My dream job was starting in March 2013, so I had 7 months that I could spend in Europe, which I thought would be more than enough time. I had 1 semester left of uni and around 6 months to save up as much as possible.
But realistically, if I was going to spend the whole 7 months away, I'd still need to find work whilst I was over there. I decided that I wanted to learn French and live in France so I enrolled in a French language school for 5 months. Then for the remaining 2 months, I'd backpack around Europe.
If I was going to find work in France, I knew that my best bet would be in the hospitality industry. Hospitality work is a lot more flexible than other kinds of work so I could realistically get hired temporarily. Plus, working in a bar in the South of France sounded awesome. I'd be forced to speak French, I'd meet loads of interesting people, I'd improve my social skills and I'd always wanted to be a bartender.
Breaking into the Industry
The reason I hadn't tendered bar before was because I kept running into the same problem, bars only want to hire people with experience. But I knew that if I couldn't make it work in Australia first, I definitely couldn't make it work in France. I needed to get some experience before leaving and I had 6 months left before my flight.
So I hit the pavement with my resume/CV and started applying to every bar, restaurant, & cafe I could find, even if they weren't formally advertising. It took a while, but I eventually managed to land a part-time waiting gig at a quite golf-club bar/restaurant called Sandhurst.
My First Hospitality Gig
It was an easy job, but I had no idea what I was doing so I found it very challenging for the first few weeks. I knew virtually nothing about alcohol, coffee, & customer service. And when I started working there, it didn't take me long to realize that my social skills were a lot worse than I thought. I constantly felt anxious to the point that I even found it difficult asking people what they'd like to drink.
I never thought I'd get any good at it. To be honest, after my first couple of shifts I was surprised I still had a job. But I stuck at it and thankfully, I didn't get fired. It took some time but eventually I managed to get my head around the job. I felt more confident talking to customers, I learned how to make an espresso, and they even taught me how to carry 3 plates!
In no time at all, it was time to leave for Europe. I sold my car, packed up my things, finished my exams, and for the first time in my life, I ventured out into the world on my own…
Moving to the South of France
If you've ever been traveling before, especially alone, you'll understand what it feels like when you leave for your first big trip. I'm sure it's different for everyone but I felt a combination of excitement, joy, fear, & doubt, and I felt completely overwhelmed when my plane took off.
I'm not going to lie, but my first week in France was tough. I felt lonely, anxious, and I had no idea what to do with myself. It was nowhere near as fun as I thought it was going to be. I ended up just walking around doing things I thought I was supposed to do, like visiting the tourist hot spots and lying on the beach.
The second week was better. I'd settled into Nice and I'd just started French school. I'd met a couple of cool guys from Switzerland (which I thought was awesome), and I was feeling a lot more comfortable. But, all in all, I was still scared shitless!
By the end of the third week, I was having the time of my life. I was no longer feeling anxious, French class was going well, I'd made loads of cool friends, and we were spending all of our free time drinking, partying, and hanging out on the beach.
Looking for a Job
Despite how much fun I was having, none of this was helping my bank account. As with most first-time travelers, the money I'd saved up didn't last anywhere near as long as I thought. So after 1 and a half months of 'holiday', it was time to start looking for work. I went into school and got some help translating my resume/CV into French, then hit the streets and applied for a job at every bar I could find.
But, the job hunt didn't go as smoothly as I had hoped. Apparently, looking for work when the busy season has ended isn't the best idea… All of the bars & restaurants I spoke with told me exactly the same thing: "you're too late, you've missed the season. You should have been looking for a job months ago!"
It wasn't a good sign…
My money was running out, finding a job was looking unlikely, and I still had another 5 and a half months left in Europe… To say that I was worried would be an understatement. I kept looking for work every day for a week, but regardless of what I did or said, nothing worked.
An Unexpected Birthday Present
On the day before my 22nd birthday, I hit the pavement once more. I gave my resume/CV into about 10 different bars and once again, heard the same thing, "you've missed the season." After another disappointing day, I started heading home. But on the way back I noticed an English bar called 'Wayne's Bar' that I still hadn't applied to.
What did I have to lose? I walked in and told the waitress that I was looking for work and asked if she could pass my resume/CV onto her manager. Then walked out and thought nothing of it. 10 minutes later, I got a call from the owner asking if I could come in the next day for an interview. I told him I'd be there.
The next day, on my birthday, I went in and spoke with one of the managers. I nailed the interview and he gave me a trial the following day. It was the best birthday present I could have asked for! The trial went well, thanks to the experience I'd gained back in Melbourne, and they gave me a job as a server.
At the time, I didn't realize it but Wayne's Bar was one of the most popular bars in town, and it was well known for being a great place to work. I was extremely lucky to land a job there. The only reason they gave me a shot was because they needed staff and the owner was from New Zealand (for some reason he liked Australians).
Welcome to 'Wayne's Bar'
Even though I performed well on the trial, when I actually started working there, the experience that I thought I had counted for nothing. It was one of the busiest bars I'd ever been in, let alone worked in, and it was even crazier than it was busy. There was a live band every night, everyone was encouraged to dance on the tables, the bands were chugging beers mid-set, and the staff were expected to party with them!
Wayne's Bar is an English bar in Nice that hosts Contiki tours. Contiki tours are basically groups of Australian travelers who are just in Europe (or wherever they are touring in the world) to party.
When the Contiki tours arrived, we would usher them into 'the pit', an area of the bar that would turn into the mosh pit when the band started playing. Once they were all seated, I would stand up and make a speech, welcoming the group to Waynes Bar and the South of France, tell them about the band & any drink specials, then get the party started by having a shot with their group leader!
Sucking at the Job
For the first couple of months, words can't explain how bad I was at my job… I found it incredibly stressful trying to manage & serve so many people at once, I sucked at public speaking, I thought the rest of the staff disliked me, and French customers kept asking me for wierd drinks like pastis, and Get27. 
There were a couple of nights where I genuinely thought I was going to get fired. There was one night in particular, that I'll never forget, when my boss told me that if I didn't pick up my game in the next week, he wouldn't have a job for me. It was the first and only time in my life I've ever been so scared that I couldn't eat or sleep. The next day I came into work and worked my ass off. By the end of the shift, I was still scared shitless so I decided to confront my boss.
I asked what I could do to keep my job and he told me, "Ahh, don't worry about it. I didn't actually mean it, I was just trying to motivate you to work harder, and look at how hard you worked tonight! haha."
I can tell you that as funny as he found it, it wasn't very funny to me… But at least I could relax, eat and get some sleep that night.
Getting Good at the Job
After a few months of scraping through and learning the ropes, I finally started to get my head around the job. I managed not to get fired, I befriended the rest of the staff (including my boss who told me I had a week to pick up my act), and I developed the social and life skills that were lacking so much in my life.
Despite the craziness and a couple of emotional break downs, it was one of the best jobs I've ever had, and I wouldn't trade my time there for anything. It taught me a lot about myself, other people and the world we live in.
I enjoyed it so much that I decided to quit my graduate job back home just so I could stay in Nice and work at Wayne's Bar for a year.
I'd been exposed to a world that I didn't know existed and I absolutely loved it. I was making great money, meeting interesting people, and experiencing the adventure & excitement I'd wanted for so long. I made trips to the alps, Paris, Amsterdam, and the UK. And I managed to save up enough money to finally backpack around Europe for 2 months.
Becoming a traveling bartender was a dream come true!
Onto the French Alps?
A couple of the guys I worked with at Waynes found out how much I enjoyed skiing so they started telling me stories of when they worked in the alps. I fell in love with the idea and wanted to do the same so they told me to speak with the owner of Waynes (the New Zealand guy), because he had loads of contacts up there.
So I did, and because I'd worked my ass off and actually got good at my job, he didn't hesitate in recommending me. He put me into contact with the nightclub owner of one of the most popular nightclubs in the French Alps called 'Dick's Tea Bar'. Without even being interviewed, I was given a job as a traveling bartender. Having contacts in this industry makes a huge difference when you're looking for work.
So when my time in Nice came to an end, I said goodbye to my friends, packed my things and started getting ready for a winter in Val D'Isere.
In Nov 2014, I moved my life to the mountains. For the first time in my life, I'd be working behind the bar. Skiing, snowboarding, bartending, drinking, and partying, that's how my life would look for next 5 months. I couldn't have been more excited!
Other Parts in the Series
Ready for the next step? Become a professional bartender today!
Join the best online bartending course and elevate your mixology skills to the next level. This comprehensive program, designed for aspiring bartenders, offers a dynamic learning experience with HD videos, interactive quizzes, and lifetime access. Enhance your bartending abilities and take your career to new heights with this one-of-a-kind course.